PrivateFly & PA Life PA Business Travel Survey 2013
INTRODUCTION & METHODOLOGY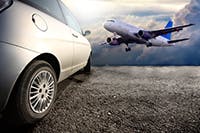 In March and April 2013, PrivateFly got together with PA Life to conduct a survey of PAs and executive assistants, to find out how they book business travel today.

512 participants were generated through invitations to readers of PA Life and through online and social media invitations to other PA networks.
The survey asked them about their methods of travel research; how much time they spend booking travel; and their biggest travel challenges - including the most unusual travel destinations and requests they've received from their boss.
Key findings include:
Most PAs now work for two or more bosses – and many for three or more.
Almost half of PAs book bosses' holidays in addition to their business travel.
The majority said they spend at least 20% of their time organising travel.
PAs see airline tickets as the most difficult type of travel to arrange, trains the easiest.
PAs reveal their bosses' most unusual travel destinations and requests
Adam Twidell, CEO of PrivateFly.com commented: "The survey gives us a clear indication of the complex and pressurised role of today's PA, when it comes to booking travel. In addition to juggling the business travel needs of multiple bosses, many are called upon to book their private holidays, as well as meeting some very specific and unusual needs to make the trip perfect. All in all, it's clear that today's PA really is going the extra mile to keep the boss happy".
Colette Doyle, editor of PA Life magazine, added: "The findings are a compelling snapshot of the profession. We imagined that most PAs would be involved in booking business travel and this survey confirms that not only is the vast majority (96%) responsible for this undertaking, but two-thirds of those who responded spend at least 20% of their time in the office organising travel."
Receive your copy of the PrivateFly & PA Life PA Business Travel Survey White Paper by emailing enquiries@privatefly.com. Alternatively you can read the full White Paper below.
If you require any further information, or would like a copy of the PrivateFly & PA Life PA Business Travel Survey White Paper sent to you by email please call +44 1747 642777.
WHITE PAPER: PRIVATEFLY & PA LIFE PA BUSINESS TRAVEL SURVEY 2013
PA PROFILES | BOOKING TRAVEL | TRAVEL & TECHNOLOGY | HARDEST & EASIEST TO ARRANGE | GOING THE EXTRA MILE | PA REWARDS
PA PROFILES
Location & gender
Almost half (46%) of PAs taking part work in London, with a further 17% working in the South East of England. The next most popular location was the North West (8%). The rest were spread across the UK, with 5% of participants describing their roles as international.
Where is your role based?
93% of PAs taking part were female.
Age and experience
Over half of PAs taking part were aged 35 or over. The most popular age band for PAs taking part in the survey was 35 to 44, with 36% falling into this age band. 43% have been in a PA role for 20 years or more. London PAs are more likely to be younger with the most common age bracket 25-34, versus 35-44 for most other regions. East Midlands PAs are the oldest, with 45-54 the most common age bracket.
No longer a one-to-one support role
The findings demonstrate that today's PA is no longer a role supporting one person. 70% of PAs support at least two executives, with 45% working for 3 or more bosses. PAs working in larger companies with 10,000+ employees were more likely to only support one person (46% versus 30% overall) with mid-sized companies more likely to ask their PAs to support 3 or more bosses.
Is your current role focussed on supporting
Of those taking part, almost a third (31%) support a Chief Executive, with a further 12% working for a Chairman. Another 25% support a company Director.
The most popular company size was 51-200 employees, followed by 11-50 employees. 15% of participants work for a company with over 10,000 employees. London PAs are more likely to work for larger companies.
Still an office-based role
Despite advances in flexible working in other office-based roles, working from home is still not widely available for today's PA: A significant 40% said they never work from home, with 56% said they do so only occasionally. London-based PAs and those in larger companies were the most likely to say they work from home on occasions.
The importance of the PA's face in the office was also underlined by the fact that the majority don't travel on business alongside the boss(es). Most (53%) said they never do and a further 22% said they do only on rare occasions. Only 2% said they often go on the business trip too. London PAs were the most likely to be left behind, with 61% saying they never travel with the boss.
Do you work from home?
BOOKING TRAVEL
96% of PAs said they are responsible for booking business travel for their boss and/or others, with just over half (51%) doing so with the help of a Travel Management Company (TMC).
When asked which forms of travel they are responsible for, hotels were chosen by 94%, with airline tickets by 92%. 90% said they book train tickets and 74% taxis or chauffeured cars. 16% of PAs said they book private aviation flights. Unsurprisingly, London PAs were more likely to book taxis than any other region.
Colette Doyle, editor of PA Life commented: "Since information on venues is one of the most requested topics in PA Life magazine, it's not surprising that hotels top the charts of the most common form of business travel booked, at 94%. The finding that the next most frequent kind of booking is airline tickets (92%) and that more than 40% of PAs find this difficult to book prompts us to consider running a feature on aviation comparing offers from the various airlines".
The extent of provider comparison made by PAs varies according to the type of travel. Most PAs don't compare providers at all for train tickets, with over half sticking with one provider for taxis also. When it comes to hotels between 1 and 3 providers were typically compared, with the same for airlines. For private jet travel, most PAs don't compare providers.
y
The PAs said that arranging travel takes up a significant proportion of their working hours. When asked how much of their day was spent organising travel, the most popular answer was 30%. This equates to at least 11 hours - or around one and a half days – every week.
Two thirds of PAs said they spend at least 20% of their time organising travel.
What % of your time would you say is spent organising and booking travel?
Travel lead times - and dealing with changing plans
Today's PA is clearly under pressure when it comes to the amount of lead time they are given for booking travel, and the complexities involved in this aspect of their role. PAs are typically given the brief for making travel arrangements no more than 2 weeks ahead of the departure date. 36% said they were typically given between 7 and 14 days to make arrangements, with another 30% only having between 3 and 6 days ahead of the date of travel.
A still significant 16% said they typically arrange travel at the very last minute, given just 1-2 days' notice of travel plans.
Time pressure also emerged as an issue when the PAs were asked to name the most difficult part of booking travel.
Dealing with the implications of changing plans on travel arrangements was the most popular answer - with a significant 44% choosing this as their number one travel challenge. The second most difficult aspect was the time needed to compare providers (23%), with being put under time pressure at number three (16%).
Colette Doyle, editor of PA Life commented: "In terms of timescale, it's clear that today's busy working schedule is behind the short lead times observed by the study, with most PAs making travel plans within two weeks of departure and just under a third having only three to six days' notice".
TRAVEL & TECHNOLOGY
Using technology for travel research
The survey's results indicate the growing importance of technology for PAs when researching travel suppliers.
The vast majority of PAs (64%) use technology in some way as their preferred way to compare travel options, rather than relying on a traditional, offline travel agent or broker to give them the best deal – with just 19% using this as their primary research method. The most popular answer was comparing individual suppliers online, with 39% on average choosing this as their primary research method; with a further 22% using technology via online price comparison sites and another 2% via phone or tablet apps.
The PAs were asked to name their preferred research method across five different forms of travel: Train tickets, taxis or chauffeured cars; hotels; airline tickets; and private aviation. While comparing individual suppliers online was the highest ranked research method overall, it was most popular for train tickets (53%) and least for airline tickets (32%). In fact, when it comes to booking airline seats, the traditional broker was almost as popular at 29% - something not seen for the other forms of travel.
Price comparison sites were most likely to be used for researching hotels with 29%. Phone or email contact with suppliers was most used for taxis.
What of these forms of business travel do you book?
se that few PAs are using phone or tablet apps. Just 2% chose this as their preferred research method, and in a different question, only 16% said they have ever used this method for booking business travel. London-based PAs are more likely to have done so than those based anywhere else. Addison Lee, Skyscanner, Kayak were mentioned as recommended travel apps
...but the boss still beats Google when it comes to a buying decision.
Interestingly, while technology dominates PAs' travel research, the boss or company policy is still the biggest influencing factor when it comes to making the final supplier decision. PAs were asked to choose the top 3 factors that influence their final supplier decision and a significant majority (70%) chose this as one of their top 3 influencing factors, particularly those in larger organisations.
Other popular factors that influence a supplier decision are word of mouth/personal recommendation (38%) and search engines (37%).
HARDEST & EASIEST TO ARRANGE
In addition to their general challenges when it comes to booking travel, which revolved around dealing with short timescales and changing plans (see above), the PAs were also asked which forms of travel were most difficult and easiest to arrange.
Airline tickets are the most difficult to arrange...
PAs find airline tickets the most difficult form of travel to arrange, with over 40% choosing this as the trickiest form of travel.
Reasons given included "Our journeys often involve multi-stops and it is not always easy to find the right times for the travel"; and "Trying to match up the location with the airport, some locations can be far away from airports". Another PA commented: "There are so many stipulations to booking an airline ticket, there is always a caveat somewhere".
Which of these types of travel do you find HARDEST to arrange?
...and train tickets the easiest
By contrast, train tickets are considered the easiest form of travel to arrange, by 38%. Reasons given included: "Generally takes less time to research"; "No research/comparison needed" and "It is rare that the train is full!".
GOING THE EXTRA MILE
Booking the boss' holiday
It seems that many PAs are required to book more than just business travel. 42% book holiday or leisure travel for their boss(es) at least occasionally, with 7% always doing so.
Do you book your boss' personal (leisure) travel?
One PA mentioned being asked to "arrange his honeymoon", another said "he rang me from Portugal to find and book somewhere for him to swim with Dolphins in Portugal". One PA recalled "booking a flight for my boss to go see his brother in a Chinese jail".
Most unusual destinations & travel requests
Participants were asked about their boss(es)' most unusual travel requests and destinations, with responses giving a fascinating insight into the demands faced by today's PA.
As one commented "Good job we all like a challenge!". Unusual destinations mentioned included Tanzania; Colombia; an Arctic expedition starting from Norway; The Congo; Equatorial Guinea; Baku; Yuzhno-Sakhalinsk (remote island airport in Russia).
Other stories of PAs more unusual tasks included the following:
"The Chairman of my company rang me recently to ask if I could sort out a mistake - he'd put diesel in his petrol car, had a flat battery on his mobile and couldn't remember whether he was with the AA or RAC, oh and he was on a train and had abandoned the car in a hotel car park. Good job we all like a challenge!"
"He needed a Haggis delivered to a restaurant in New York"
"Collect his wife's Birthday present that he'd left at home. We were in Wellington New Zealand at the time. Flew Auckland - London – Auckland, all in first class with just a 4 hour turn around in London."
"Get him back from Europe by any means during the Icelandic volcanic disruption."
"Check that you can take fish through customs."
"Remote locations in Russia (close to Siberia)."
"Gotland in Sweden as I had to book 4 separate modes of transport to get from the UK due to it's remoteness."
"Left a silver-handled umbrella in a London taxi and had to try and trace the taxi and where a replacement could be bought."
"A complex itinerary touring Scandinavia. Over several days and involving planes, trains, buses, boats and private car hire."
"To get an employee on a trip to Manila out of the country as soon as possible after a threat to US & UK citizens was released."
"A really remote place in British Columbia, Canada - it's basically impossible except by private plane!"
"Arrange his honeymoon."
"A particular sized chest of drawers and particular sized working desk had to be checked and available in the room before a hotel could be booked."
"3 location business travel in India to fit into 5 business days - an almost impossible itinerary."
"To make a pantomime cow for his wife's birthday party".
"Gotland in Sweden as I had to book 4 separate modes of transport to get from the UK due to it's remoteness."
"Malawi via Kathmandu."
"Dow in Terneuzen (Netherlands) is the most awkward place to get to from the UK."
sourcefulness required of the modern PA."
PA REWARDS - YOUR PRIVATE JET CHARTER SERVICE
PrivateFly works with a large number of personal assistants and executive assistants to arrange private jet and helicopter hire. Find our more about our PA Rewards Programme. Or contact our expert team (24 hours) for advice or flight prices on +44 1747 642777.